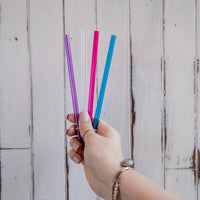 The MBC reusable plastic straw is now available in a perfect length for the Baby 8! 
Please wash your straw with a cleaning brush or by hand- sometimes the heat of the dishwasher will bend them.
Your purchase will include's one straw that measures 6.25" 
Works best with the Baby 8 or the 16oz tumblers
Please be cautious if you have a young one that bites his/her straws as the plastic is not "bite-proof". 
Please make sure to follow us on Social Media for the latest news and new products! @TheMasonBarCompany
#MBCGOODS